D3K TRACK-TYPE TRACTOR
Back to the list
The Cat® D3K Track-Type Tractor delivers superior performance and comfort while reducing your operating costs. The large spacious cab provides a comfortable work area. Intuitive seat-mounted controls are easy to use for greater job accuracy and efficiency. The innovative SystemOne undercarriage reduces maintenance time and costs - significantly impacting your bottom line. The AccuGrade Laser and GPS Systems help you get to grade faster, with fewer passes and less manpower. From first cut to finish grade, the D3K sets the standard.
engine
Engine ModelCAT C4.4 ACERT™
Power - Net55.2 kW
Power - Gross60.5 kW
Displacement4400.0 cm3
Caterpillar55.2 kW
ISO 924955.2 kW
EEC 80/126955.2 kW
SAE J134955.2 kW
Bore105.0 mm
Stroke127.0 mm
weights
Operating Weight - XL7795.0 kg
Operating Weight - LGP8093.0 kg
transmission
Drive Pumps2
Track motors2
Relief valve settings47650.0 kPa
Maximum travel speed - forward9.0 km/h
Maximum travel speed - reverse10.0 km/h
service refill capacities
Fuel tank195.0 L
Crankcase and filter11.0 L
Final drives, XL (each side)10.0 L
Final drives, LGP (each side)10.0 L
Cooling system22.4 L
Transmission/hydraulic tank59.5 L
hydraulic controls
Pump Output73.5 L/min
Relief valve setting20600.0 kPa
standards
ROPSSAE J397-OCT95, SAE J1040-MAY94, ISO 3471-94, ISO 3164-95
FOPSSAE J231-JAN81, ISO 3449-92
winch
Weight610.0 kg
Winch DriveHydrostatic
ControlHydraulic
SpeedVariable
Winch length705.0 mm
Overall width741.0 mm
Drum diameter254.0 mm
Drum width274.0 mm
Throat clearance171.5 mm
Rope diameter - recommended16.0 mm
Rope diameter - optional19.0 mm
Drum capacity - recommended cable113.0 m
Drum capacity - optional cable78.0 m
Maximum line pull - bare drum18144.0 kg
Maximum line pull - full drum11340.0 kg
Maximum line speed - bare drum40.0 m/min
Maximum line speed - full drum63.0 m/min
ripper
TypeParallelogram
Number of Shanks3
Maximum digging depth337.5 mm
Maximum reach at ground line766.0 mm
Maximum ground clearance under tip448.0 mm
Overall width1710.0 mm
Height165.0 mm
Weight554.0 kg
undercarriage
Shoe width - XL406.0 mm
Shoe width - LGP635.0 mm
Length of track on ground - XL2095.0 mm
Length of track on ground - LGP2095.0 mm
Track gauge - XL1495.0 mm
Track gauge - LGP1725.0 mm
Ground contact area - XL17011.0 cm2
Ground contact area - LGP26607.0 cm2
Ground pressure - XL44.8 kPa
Ground pressure - LGP29.7 kPa
blade
Blade width - Intermediate2921.0 mm
Blade width - XL2646.0 mm
Blade width - LGP3149.0 mm
Blade height - Intermediate860.0 mm
Blade height - XL910.0 mm
Blade height - LGP860.0 mm
Blade capacity - Intermediate1.5 m3
Blade capacity - XL1.52 m3
Blade capacity - LGP1.66 m3
Digging depth - Intermediate573.0 mm
Digging depth - XL573.0 mm
Digging depth - LGP573.0 mm
D3K STANDARD EQUIPMENT
electrical
Horn
Backup alarm
Diagnostic connector
Heavy duty 750 CCA batteries
Alternator, 12V, 120 Amp, heavy duty brushless
12V Starter
operator environment
ROPS/FOPS cab with sliding side windows and air conditioning
Cat C500 comfort cloth air suspended seat with adjustable armrests
76 mm (3-inch) retractable seat belt
Adjustable seat-mounted, electro-hydraulic controls
Foot rests
Compact Instrument Cluster including: Gauges for engine coolant temperature, hydraulic oil temperature and fuel level 12 indicators digital display (ground speed, engine RPM, hour meter)
Rotary throttle switch
Travel speed limiter
Independent forward/reverse speed settings
Single pedal combining deceleration and braking functions
Rearview mirror
12V power port
Coat hook
Storage compartment
Cup holder
Heavy duty rubber floor mat
Windshield washers and wipers, front and rear
power train
Caterpillar C4.4 ACERT diesel engine, turbocharged
Aluminum bar plate cooling system (radiator, power train)
Blower fan
Air cleaner with precleaner, automatic dust ejection and under-hood intake
Fuel priming pump with integrated fuel/ water separator
Dual path, closed-loop hydrostatic transmission
Under-hood muffler
hydraulics
Hydraulics, 3 valve
undercarriage
SALT Undercarriage
Lifetime lubricated track rollers (6) and idlers
Carrier rollers
Tracks, 41 sections - XL configuration 406 mm (16") LGP configuration 635 mm (25")
Hydraulic track adjusters
other standard equipment
C-Frame, VPAT, hydraulic cylinders and lines
Fuel tank
Heavy duty crankcase guard
Lockable engine enclosures
Idler guards
Radiator guard and grill
Front pull device
Rigid drawbar
S·O·SSM ports (engine, power train and hydraulics)
antifreeze
Extended life coolant, -37° C (-35° F)
D3K OPTIONS
electrical
Integrated two front halogen lights, one rear halogen light
Integrated four front halogen lights, two rear halogen lights
power train
Drive auxiliary
Installation, winch
undercarriage
TRACK PAIRS, XL Track, 406 mm (16") MS SystemOne™ Track, 356 mm (14") TG SALT
TRACK PAIRS, LGP Track, 635 mm (25") MS SystemOne™ Track, 635 mm (25") Self cleaning SALT Track, 635 mm (25") Self cleaning SystemOne™
operator environment
Cab
Cab, polycarbonate windows, 360 degree guarding protection
Seat, cloth, air suspension, heated
Radio, AM/FM, CD player
hydraulics
Hydraulics, 4 valve for use with ripper
Hydraulics, 4 valve for use with winch
guards
Guard, rear, heavy duty
Grill, radiator, heavy duty
Guard, track guiding, center
Guard, track guiding, full length
Screen, rear, cab
Screen, side, cab
Screen, rear, canopy
Screen, front and sides, canopy
Sweeps, front
Sweeps, rear
blades
VPAT XL blade
VPAT LGP blade
VPAT Intermediate blade
rear attachments
Drawbar, towing
Mounting, winch
Ripper, parallelogram, includes three shanks and teeth
rear attachment control
Control, ripper
Control, winch
Control, ripper and winch
machine control and guidance
Installation, AccuGrade ready
starting aids
Heater, engine, coolant, 120V
other attachments
Enclosure, sound suppression
Machine Security System
Caterpillar Product Link 321
Caterpillar Product Link 121
antifreeze
Coolant, ext. life, -50° C (-58° F)
field installed attachment
Winch, hydrostatic
Back
MOTEUR
Superior comfort keeps you productive, all day long.
BENEFITS AND FEATURES
Cab The operator station is designed to keep operators comfortable, relaxed and productive throughout the long work shift. The D3K features:
Standard air conditioning with cab option
Spacious cab with generous leg room
Fully adjustable air suspension seat with a heated seat option for cold climates
Wide door openings for getting in and out of the cab easily
Operator sound level has been lowered inside the cab 4 dB(A) to an industry leading 80 dB(A) - ANSI/SAE J1166 OCT 98. This provides a quiet, comfortable working environment reducing fatigue and increasing their productivity.
Seat-Mounted Joystick Controls For optimum comfort and precise control, the D3K features ergonomically designed seat-mounted controls. Seat-mounted controls isolate vibrations from the operator, and provide independent seat and controls adjustment. Individual wrist pads and armrests can be adjusted independently for optimum comfort.
Monitoring Package Easy to read display provides vital system information. Buttons below the display allow the operator to select parameters for forward/reverse speed, blade response, steering response and decel pedal operation modes.
Dozer Blade Control Ergonomic joystick is easy to use and reduces operator fatigue. The intuitive control makes operating the tractor easy for both new and experienced operators. The new handle shape conforms to your hand for precise blade raise and tilt control with less operator fatigue. A thumb roller controls the blade angle and requires less effort than other competitive machines. A blade shake button on top of the handle provides momentary quick tilt movement to easily remove material from the blade.
Combined Decel/Brake Pedal Decel pedal serves combined function as engine speed control and brake. Depressing pedal through bottom of travel detent applies brake. Pedal mode can also be changed to control transmission speed with selection buttons on the display panel.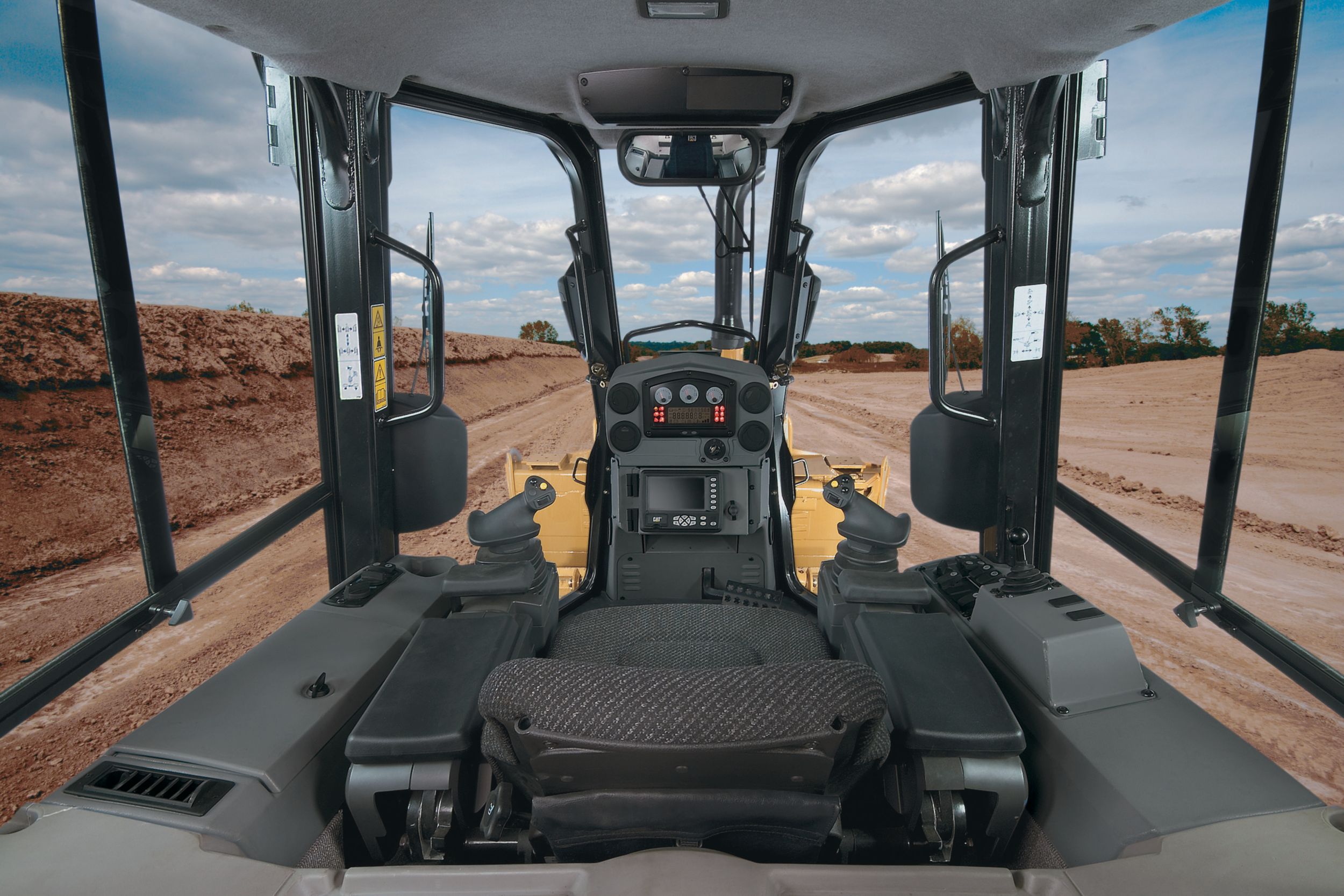 Seat-mounted controls improve productivity.
BENEFITS AND FEATURES
Speed and Direction Control Speed, direction and steering are all controlled with a single, easy to use joystick for less effort and lower fatigue so you can get more done. The joystick controls direction and has three simple detented positions for travel—forward, reverse and neutral. With the machine in motion, simply move the joystick in the direction you wish to move the machine. The more the joystick is moved to the right or left, the tighter the turn. Regardless of ground conditions, steering is consistent and predictable.
Infinitely Variable Speed Control The speed control thumb wheel mounted on the joystick is used to infinitely increase and decrease speed, letting the operator select the optimum speed for ground and job conditions. It also eliminates power interruption when changing speeds. A speed recall button on the joystick is used to select pre-determined speed settings.
Maneuverability The power turn feature lets you handle large loads around corners or through hard spots. Power turn capability improves mobility in soft underfoot conditions and is very effective on side slopes. Counter-rotation provides easy, quick maneuvering in tight areas or congested job sites.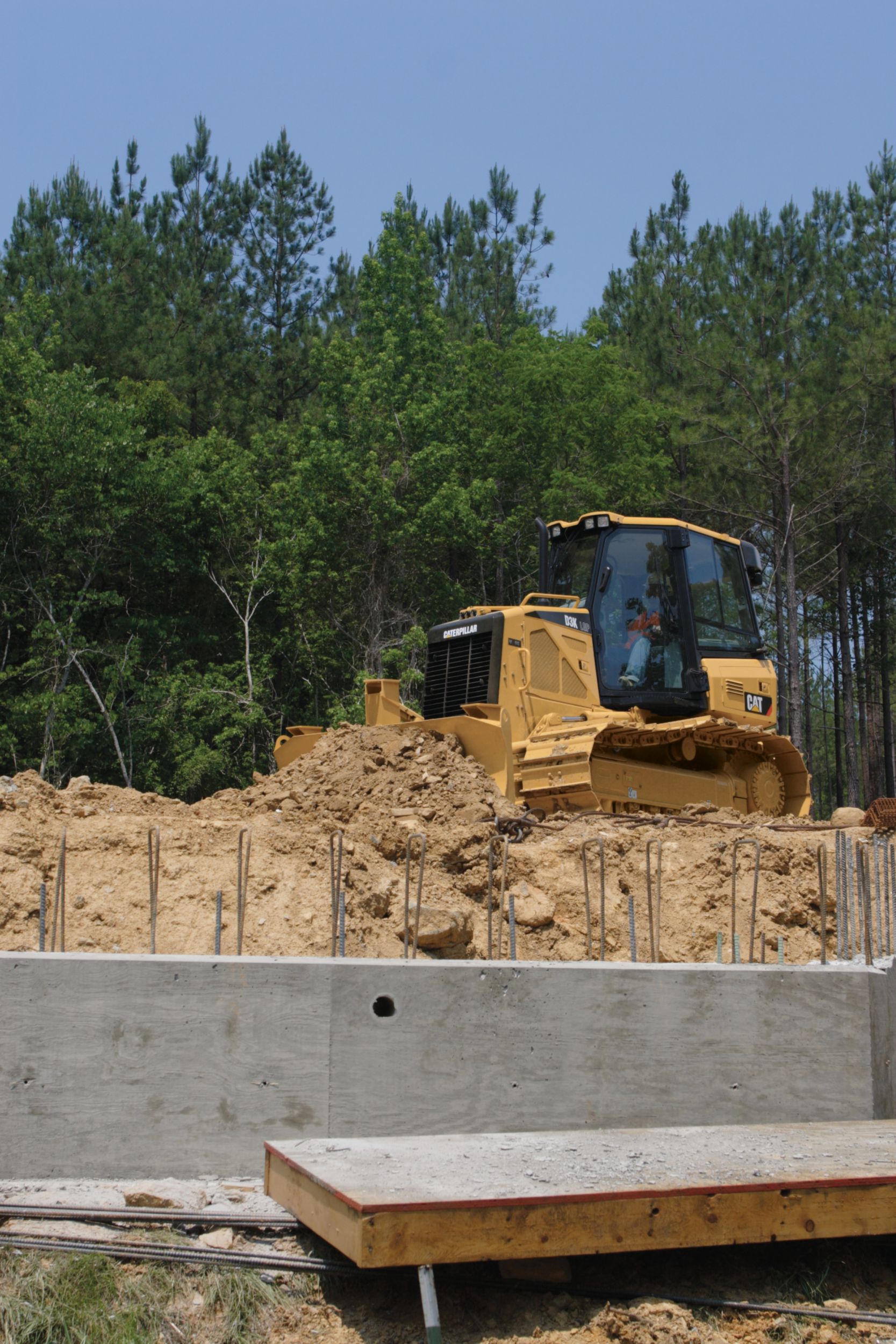 ACERT™ technology reduces emissions, increases performance.
BENEFITS AND FEATURES
C4.4 ACERT Engine The Cat® C4.4 is a 4.4 L (269 in3) displacement, four cylinder, inline configured engine equipped with a Caterpillar common rail fuel system. It uses ACERT Technology, a series of Caterpillar engineered innovations that provide advanced electronic control, precision fuel delivery and refined air management, resulting in outstanding performance and lower emissions. It meets the U.S. EPA Tier 3, EU Stage IIIA and Japan MOC Step 3 emissions standards.
Outstanding Performance The C4.4 delivers increased horsepower, outstanding durability, reliability and improved response to change in loads, delivering power when you need it. The engine is more compact, allowing the cab to sit more forward - this improves machine balance and provides greater operator comfort. The engine and transmission control systems are integrated to optimize performance and fuel efficiency.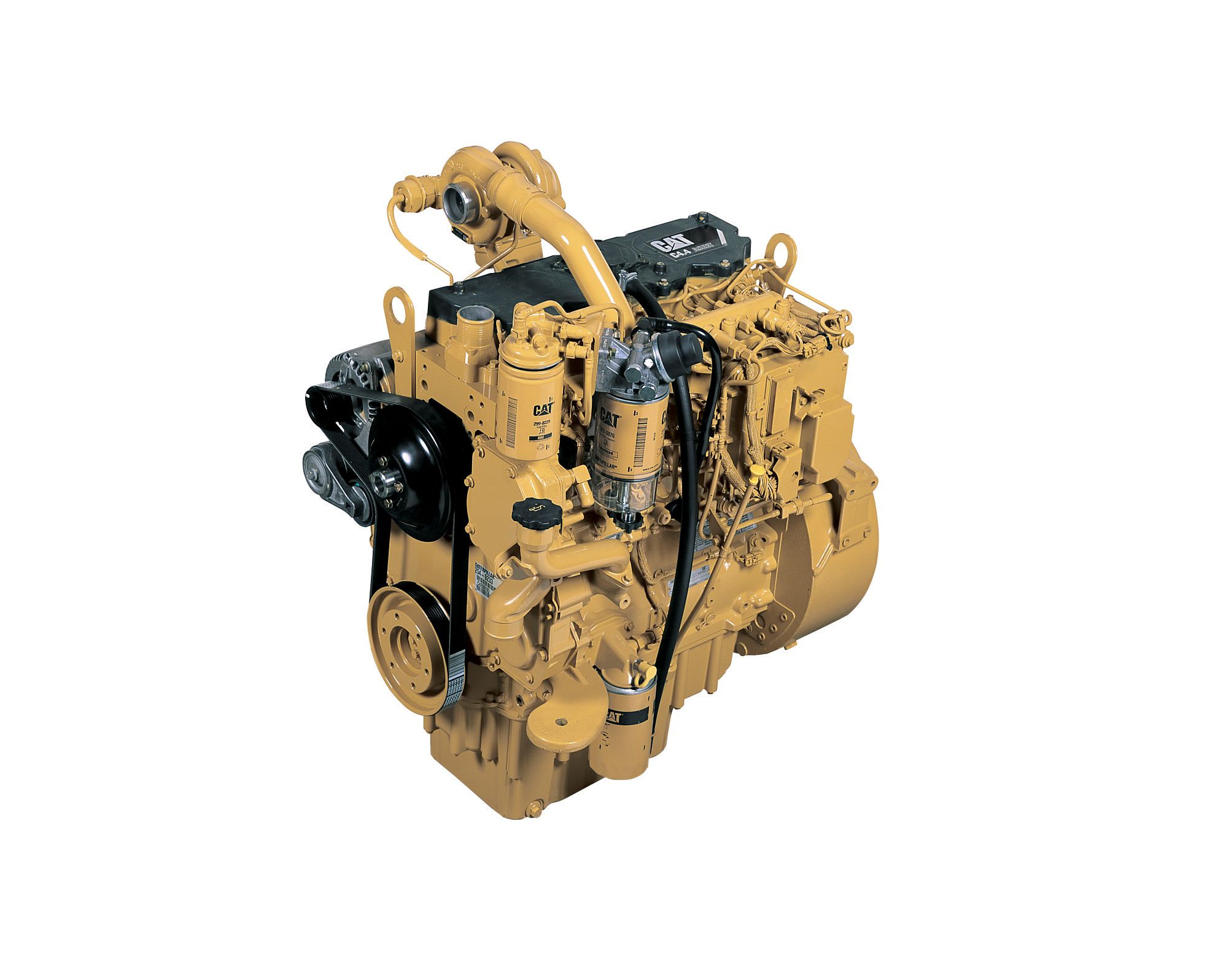 Lower owning and operating costs.
BENEFITS AND FEATURES
Durable Undercarriage Choices Undercarriages are a significant portion of a tractor's owning and operating costs. Caterpillar offers two different undercarriage choices for lowest owning and operating costs for your application needs. A sealed and lubricated track (SALT) undercarriage is standard; SystemOne™ undercarriage is available as an option. Full length guarding on top of the track roller frame prevents abrasive material from falling down on moving parts. Machine balance is the key to good grading performance. Greater track length and a stable platform lead to optimum balance, allowing you to complete jobs easier and quicker with the D3K than with competitive machines.
SystemOne Undercarriage With the revolutionary SystemOne undercarriage option, undercarriage maintenance time and costs are greatly reduced, lowering your costs and helping your bottom line. This innovative system uses a rotating bushing design which increases bushing life and eliminates the need for bushing turns. The rotating bushing combined with long wear life sprockets and center tread idler, increases the life and dependability of the entire system. Ideal for virtually any application or underfoot condition, the SystemOne undercarriage also features significantly less vibration for a better, more comfortable ride.
Sealed and Lubricated Track (SALT) Undercarriage The standard sealed and lubricated track (SALT) undercarriage is built for long life in rugged conditions. Segmented sprockets are easy to replace and less expensive than replacing the complete sprocket hub.
Choice of Undercarriage Configurations Track frames are available in extra long (XL) or low ground pressure (LGP) configurations. XL undercarriage provides increased ground contact area and flotation, superior balance and excellent finish grading. In addition, the LGP version also features a wider track shoe, increasing ground contact area for optimum flotation and stability on sloping and finish grading jobs. As an additional choice, the LGP undercarriage on the D3K is available with 762 mm (30 in) shoes.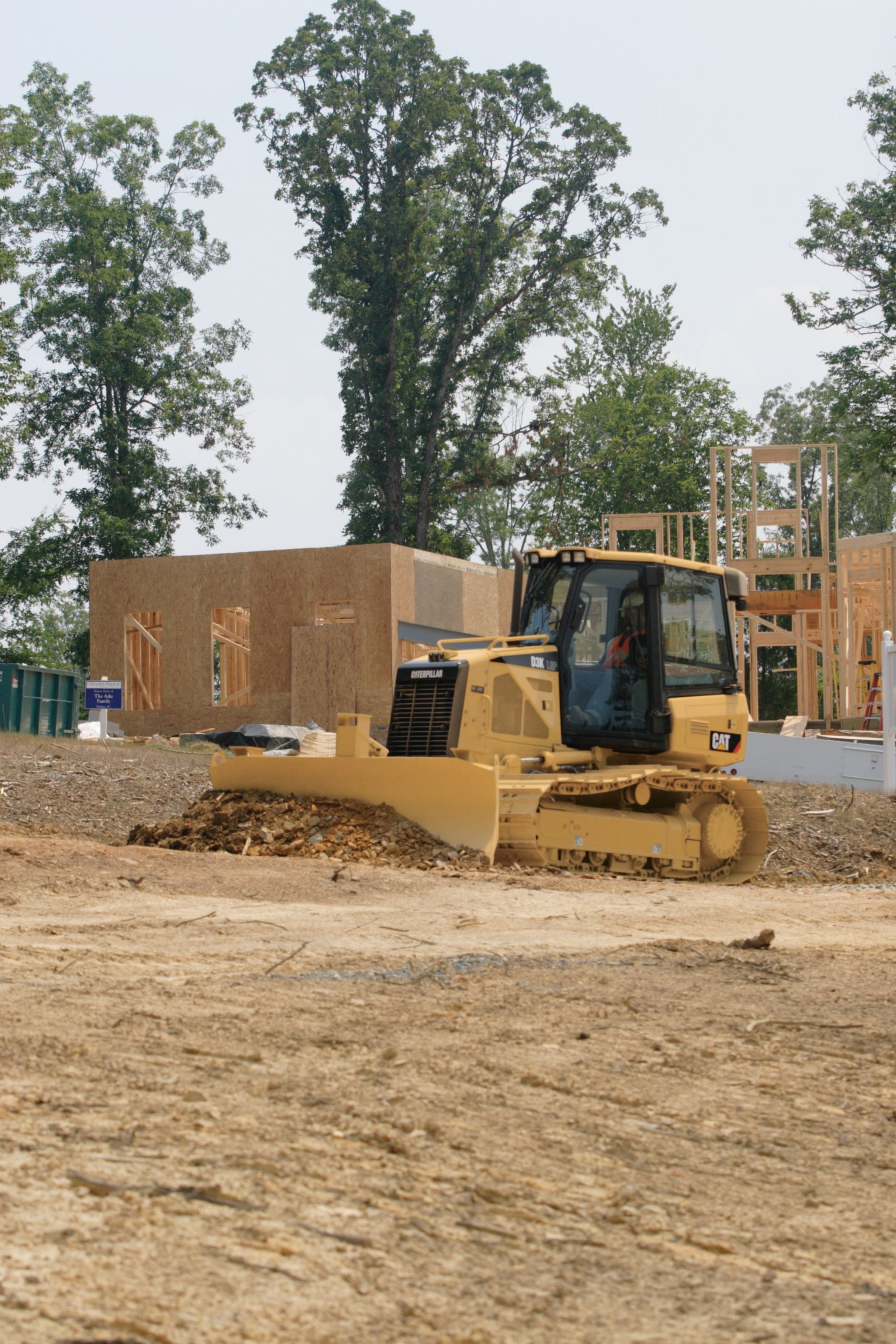 Grade with increased accuracy.
BENEFITS AND FEATURES
Grade Control Systems Caterpillar is revolutionizing the way to move material with new technology solutions for earthmoving machines - solutions that provide greater accuracy, higher productivity, lower operating costs and greater profits. The AccuGrade System is designed and integrated into the machine and hydraulic systems to create an automated blade control system that allows operators to grade with increased accuracy. The system uses machine-mounted sensors to calculate precise blade slope and elevation information.
AccuGrade Laser AccuGrade Laser uses a laser transmitter and receiver for precise grade control. A laser transmitter on the worksite creates a constant grade reference over the work area. A digital laser receiver mounted on the machine captures the laser signal. The system calculates the blade adjustments necessary to achieve grade, makes automatic elevation adjustments typically performed by the operator and provides automatic blade control. The operator simply steers the machine. Automated blade control lets you achieve grade faster and in fewer passes, reducing the need for traditional survey stakes or grade checkers. The system also calculates cut/fill requirements for manual blade control. Work is completed faster, more accurately and with less manpower. AccuGrade Laser is well suited for flat work such as concrete pads and driveways.
AccuGrade GPS AccuGrade GPS computes the machine positioning information and compares the position of the blade relative to the design plan. Information is provided to the operator via an in-cab display showing blade elevation, necessary cut/fill to achieve grade, blade position on the design surface and a graphical view of the design plan with machine location. AccuGrade GPS puts all the information the operator needs to complete the job in the cab for a greater level of control. Vertical and horizontal guidance tools visually guide the operator to the desired grade. Automated features allow the hydraulic system to automatically control blade adjustments to move the blade to grade. The operator simply uses the light bars to guide the machine for consistent, accurate grades and slopes, increasing productivity with less fatigue. AccuGrade GPS is best used for cut and contour jobs.
AccuGrade Monitor Caterpillar is the first to integrate this system and its monitor into the machine's dash for easy viewing during operation. The AccuGrade monitor is conveniently located, allowing the operator to view system information while keeping a straight line of sight to the blade corners.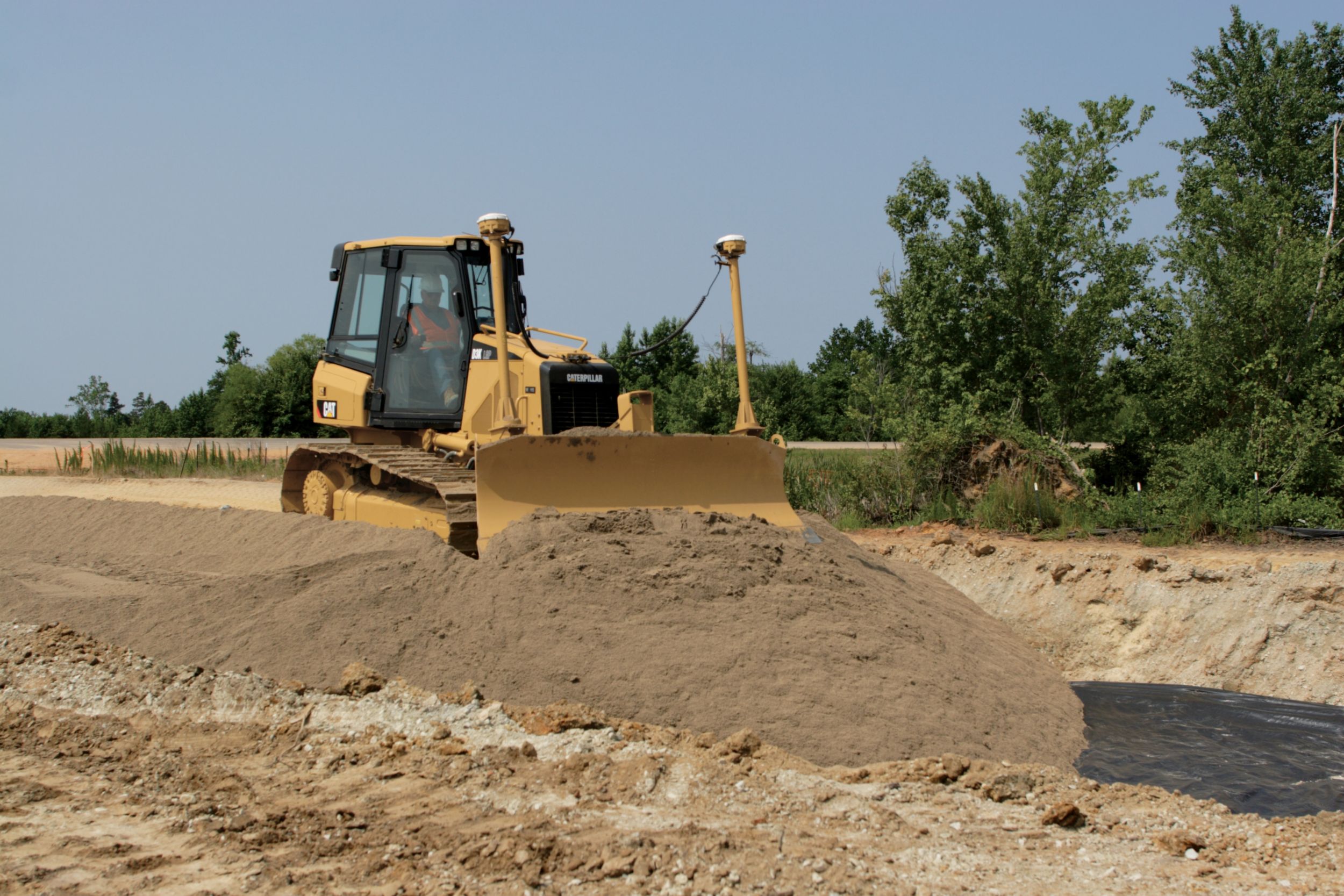 Cat work tools can handle tough dozing applications.
BENEFITS AND FEATURES
VPAT Blade The VPAT blade is specifically designed for finish grading, backfilling ditches, cutting V ditches, windrowing, fill spreading, medium land clearing and heavy dozing. Built for rugged strength and durability, this 6-way blade allows for adjustable angle, tilt and pitch. Visibility to the blade corners and cutting edge is improved. This is especially critical when working near curbs and foundation structures. 
Parallelogram Ripper The aggressive parallelogram ripper lets you do more productive ripper work. The parallel linkage design provides better penetration and maneuverability in tight working areas.
Forestry Options An easier way to work in the woods. The D3K is available with the following features to aid in forestry applications:
Forestry blade, featuring additional guarding to protect the tractor from debris and to provide increased blade productivity
Cat hydrostatic winch, featuring excellent line pull at any speed and infinitely variable drum speed
Heavy-duty rear tank guard.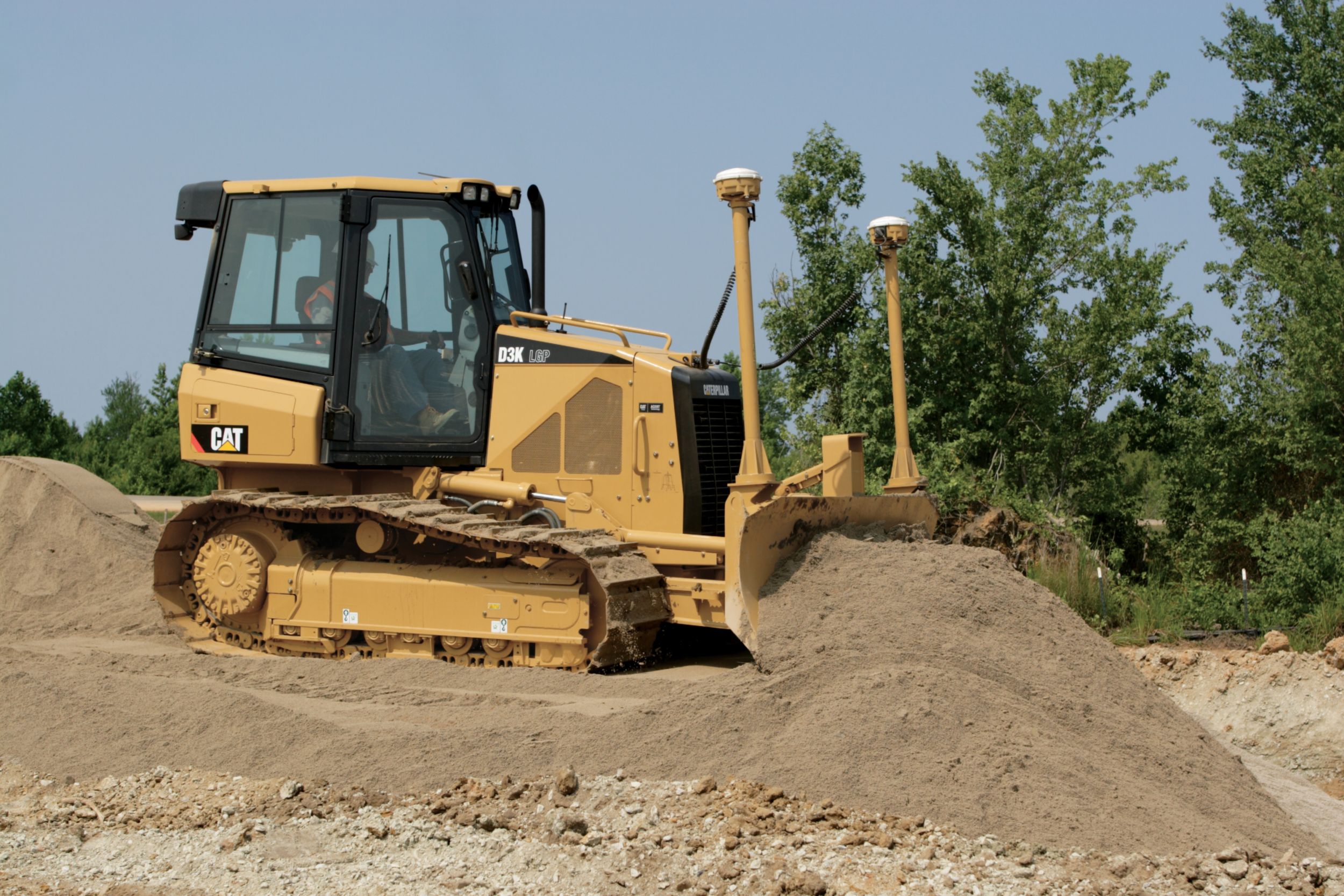 Infinitely variable speed control.
BENEFITS AND FEATURES
Outstanding Control The Cat hydrostatic winch offers outstanding control of the load with infinitely variable modulation of speed and pull. Mechanical winches force the operator to choose the gear ratio of the winch. The Cat hydrostatic winch eliminates this compromise by providing the speed of a standard winch and the pull of a low speed winch, all in one package. The result is:
Excellent line pull at any speed
Infinitely variable drum speed
Lower operator effort
Unmatched load control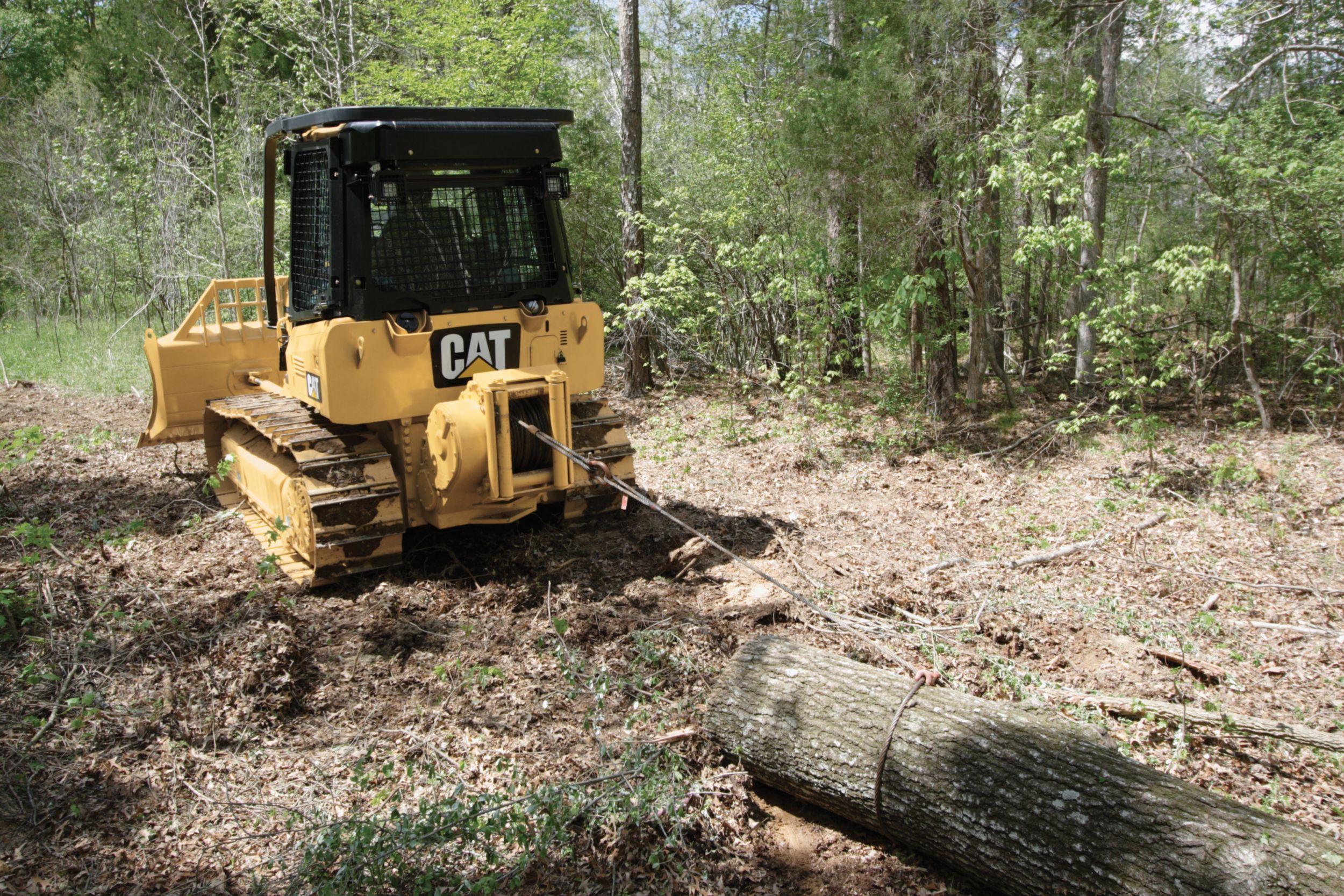 Easy access and minimal maintenance requirements keep your machine on the job.
BENEFITS AND FEATURES
Easy Access Long service intervals and easy maintenance keep the machine up and running and lower your owning and operating costs. A large, hinged door on the engine compartment provides easy access to all regular engine maintenance points, including engine fuel filters and water separator, the engine oil filter, the engine oil dipstick and filler, the fuel priming pump and the engine air pre-cleaner and filters. Grouped pressure taps allow for quick testing and troubleshooting of the hydraulic system. The hydraulic filters are all located in the left rear service compartment and are accessible from ground level.
Product Link The optional Product Link system simplifies equipment fleet tracking. Using satellite or cellular technology, the system automatically reports information such as location, machine hours, active and logged service codes and security alarms.
Machine Security System An optional Machine Security System (MSS) that utilizes a programmable key system that deters theft, vandalism and unauthorized usage. MSS uses electronically coded keys selected by the customer to limit usage by individuals or time parameters.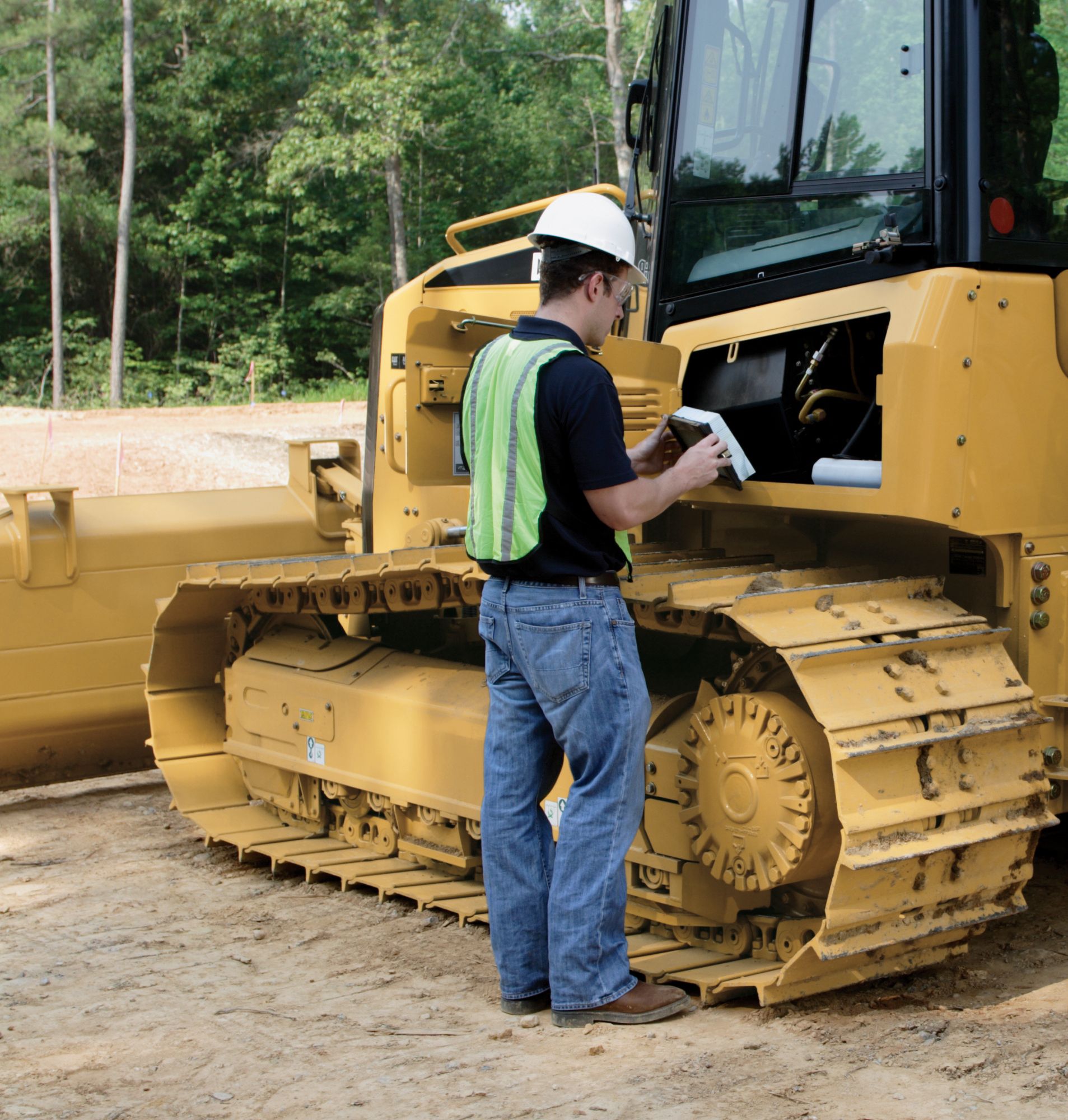 Unmatched support makes the difference.
BENEFITS AND FEATURES
Dealer Services Your Cat dealer is ready to assist you with your purchase decision and everything after.
Make comparisons of the machines, with estimates of component life, preventative maintenance and cost of production.
Financing packages are flexible to meet your needs.
Your Cat dealer can evaluate the cost to repair, rebuild and replace your machine, so you can make the right choice.
For more information on Cat products, dealer services and industry solutions, visit us at www.cat.com.