D9T TRACK-TYPE TRACTOR
Back to the list
The durable construction of the D9T is well suited for tough working conditions. It has excellent productivity, optimal operator comfort and robust reliability. Today's D9T will help you meet your business objectives every day.
engine
Engine ModelCat® C18 ACERT™
Flywheel Power306.0 kW
Gross Power334.0 kW
Net Power - ISO 9249306.0 kW
Net Power - SAE J1349306.0 kW
Net Power - EU 80/1269306.0 kW
Bore145.0 mm
Stroke183.0 mm
Displacement18.1 L
Net Power - DIN 70020428 PS
Net Power - ISO 14396329.0 kW
weights
Operating Weight50098.0 kg
Shipping Weight37792.0 kg
undercarriage
Shoe TypeExtreme Service
Width of Shoe610.0 mm
Shoes/Side43
Grouser Height84.0 mm
Pitch240.0 mm
Ground Clearance596.0 mm
Track Gauge2250.0 mm
Length of Track on Ground3474.0 mm
Ground Contact Area4.24 m2
Track Rollers/Side8
Number of Carrier Rollers1 per side (optional)
transmission
1 Forward3.9 km/h
2 Forward6.8 km/h
3 Forward11.7 km/h
1 Reverse4.7 km/h
2 Reverse8.4 km/h
3 Reverse14.3 km/h
1 Forward - Drawbar Pull (1000)716.5 N
2 Forward - Drawbar Pull (1000)400.5 N
3 Forward - Drawbar Pull (1000)222.5 N
service refill capacities
Fuel Tank889.0 L
Cooling System101.0 L
Engine Crankcase*34.0 L
Final Drives (each)15.0 L
Roller Frames (each)45.0 L
Pivot Shaft Compartment30.0 L
Hydraulic Tank Oil (only)89.0 L
Powertrain164.0 L
hydraulic controls
Pump TypePiston-type pump geared from flywheel
Pump Output (Steering)387.0 L/min
Pump Output (Implement)226.0 L/min
Tilt Cylinder Rod End Flow140.0 L/min
Tilt Cylinder Head End Flow188.0 L/min
Bulldozer Relief Valve Setting26200.0 kPa
Tilt Cylinder Relief Valve Setting19300.0 kPa
Ripper (Lift) Relief Valve Setting26200.0 kPa
Ripper (Pitch) Relief Valve Setting26200.0 kPa
Steering40500.0 kPa
Tank Capacity89.0 L
winches
Winch ModelPA140VS
Weight*1790.0 kg
Oil Capacity15.0 L
Increased Tractor Length557.0 mm
Drum Width326.0 mm
Flange Diameter610.0 mm
Overall Winch1227.0 mm
standards
ROPS/FOPSStandards
SoundStandards
blades
Type9SU
Capacity (SAE J1265)13.5 m3
Width (over end bits)4310.0 mm
Height1934.0 mm
Digging Depth606.0 mm
Ground Clearance1422.0 mm
Maximum Tilt940.0 mm
Weight* (without hydraulic controls)6863.0 kg
Total Operating Weight** (with Blade and Single-Shank Ripper)50098.0 kg
Type9U
Capacity (SAE J1265)16.4 m3
Width (over end bits)4650.0 mm
Height1934.0 mm
Digging Depth606.0 mm
Ground Clearance1422.0 mm
Maximum Tilt1014.0 mm
Weight* (without hydraulic controls)7388.0 kg
Total Operating Weight** (with Blade and Single-Shank Ripper)50623.0 kg
rippers
TypeSingle-Shank, Adjustable Parallelogram
Added Length1570.0 mm
Number of Pockets1
Maximum Clearance Raised (under tip, pinned in bottom hole)882.0 mm
Maximum Penetration (standard tip)1231.0 mm
Maximum Penetration Force (shank vertical)153.8 kN
Pry out Force320.5 kN
Weight (without hydraulic controls)4854.0 kg
Total Operating Weight* (with SU-Blade and Ripper)50098.0 kg
TypeMulti-Shank, Adjustable Parallelogram
Number of Pockets3
Added Length1330.0 mm
Overall Beam Width2640.0 mm
Maximum Clearance Raised (under tip, pinned in bottom hole)885.0 mm
Maximum Penetration (standard tip)798.0 mm
Maximum Penetration Force (shank vertical)147.9 kN
Pry out Force (Multi-Shank Ripper with one tooth)332.0 kN
Weight (one shank, without hydraulic controls)5550.0 kg
Additional Shank340.0 kg
Total Operating Weight** (with SU-Blade and Ripper)50794.0 kg
D9T STANDARD EQUIPMENT
electrical
Alternator, 95-amp
Back-up alarm
Batteries (2), 12-volt, 200 amp-hour
Converter, 12-volt, 10-amp and 20 amp
Diagnostic connector
Horn, forward warning
Light, engine compartment
Lighting system, Halogen
Starting receptacle
operator environment
Advisor-electronic monitoring system
Air conditioner and heater
Armrest, adjustable
Cab, FOPS
Deactivation switch, hydraulic controls
Decelerator pedal
Governor switch, electronic
Hydraulic system, electronically controlled for bulldozer and ripper control
Mirror, rearview
MP3/IPOD ready
Radio ready, entertainment
ROPS, rollbar
Seat belt, retractable 76 mm (3 in)
Wipers, intermittent low and high speeds
undercarriage
Rollers and idlers, lifetime lubricated
Sprocket rim segments, replaceable
Suspension-type undercarriage
Track adjusters, hydraulic
Track guides
Two-piece master link
powertrain
Aftercooler, air-to-air
Air filter, with precleaner
Aluminum bar plate cooling system
C18 with ACERT Technology
Controlled throttle shifting
Coolant, extended life
Directional shift management
Engine idle shutdown timer
Ether starting aid, automatic
Fast fuel system
Fuel priming pump, electric
High speed oil change system, engine and powertrain
Muffler
Parking brake, electronic
Prescreener
Separator, water/fuel
Three planet, double-reduction planetary final drives
Torque converter
Transmission, electronic control (ECPC), (3F/3R speeds)
safety and security
Fender guard rails
Heavy duty steps and handles
Operator presence detection
other standard equipment
CD ROM Parts Book
Ecology drains
Fluid sampling ports
Grade Control Ready
Ground level service center
Vandalism protection (8 caplocks)
D9T OPTIONS
electrical
Lights, supplemental:
guards
Bottom:
Dozer lines
Final drive seals
Fuel tank
Powertrain, rear lower
Powertrain, rear upper
Striker bar, front
Undercarriage
operator environment
Cab glass:
Operators arrangements:
Seat:
Visibility package
Window shades
powertrain
Final drives:
High altitude arrangement
undercarriage
Arrangements:
Tracks, pair, Sealed and Lubricated:
special arrangements
High debris
Sound
Stockpile
Waste handling
bulldozer attachments
9U Abrasion
9U Blade
9SU Abrasion
9SU Blade
9U Landfill
9SU Landfill
Dual tilt
ripper attachments
Counterweight, rear
Drawbar, rear
Multi Shank:
Ripper attachments:
Single Shank:
technology products
AccuGrade
Autocarry
Cat Grade Control
Terrain for Grading
VIMs with Product Link
other attachments
Heater, engine coolant
Heater, fuel
Low temperature start (includes two additional heavy-duty batteries and additional starting motor)
Prelube, engine
Winch*
Back
MOTEUR
Power and reliability
BENEFITS AND FEATURES
C18 Performing at full-rated net power of 306 kW (410 hp), the large displacement and high torque rise allow the D9T to rip through tough material. Matched to the high-efficiency torque converter and electronically controlled power shift transmission, it will provide years of reliable service.
ADEM™ A4 Engine Controller Manages fuel delivery for optimal performance per liter (gallon) of fuel used. Provides flexible fuel mapping, allowing the engine to respond quickly to application needs. Tracks conditions and keeps engine operating at peak efficiency.
ATAAC and Airflow Air-to-air aftercooling keeps air intake temperatures down and, in concert with the tight tolerance combustion chamber components, maximizes fuel efficiency and minimizes emissions. Significant improvements in air flow are generated by a water-cooled turbocharger, unique cross-flow head and single overhead cam.
Turbocharging and Air-to-Air Aftercooling Provides high horsepower with faster response time while keeping intake temperatures low for long hours of continuous operation.
Fuel Heater (optional) Uses the temperature of the engine coolant to warm the cold fuel coming directly from the tank. The fuel heater allows an easier transition to winter blended fuels during season changes.
High Altitude Arrangement (optional) New with the D9T is an optional high altitude arrangement. The attachment provides an updated turbo and control software that allows full tractor performance up to 4420 m (14,500 ft) altitude.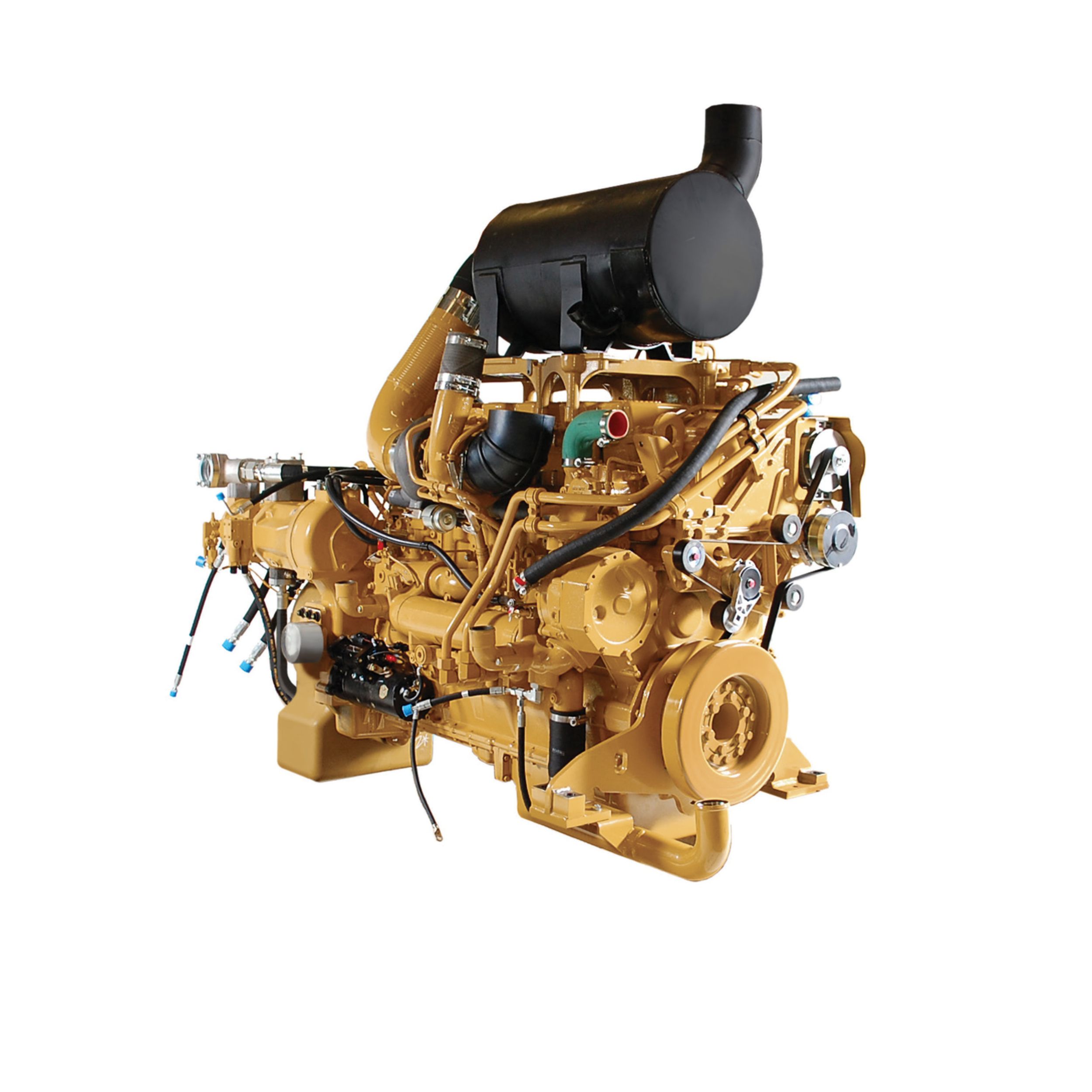 Durable and efficient
BENEFITS AND FEATURES
Aluminum Bar Plate Radiator Cooling system uses a radiator built with rugged, highly efficient aluminum bar plate cores. The aluminum bar plate construction aids durability and allows for higher heat transfer and superior corrosion resistance.
Hydraulic Air to Oil Cooler The new air to hydraulic oil cooler reduces hydraulic oil temperatures improving component life. The core is built using the same rugged aluminum bar plate design as the jacket water cooler. It is designed in-line with the water cores to minimize debris plugging in all applications.
Hydraulically Variable, Demand Fan Provides engine cooling capability that is matched to the ambient conditions. In cooler conditions, the fan turns at a slower speed, reducing power demands. This reduces fuel consumption in lower load factor operations. Low speed fan operation also reduces both operator and spectator sound levels.
Attachments
Ultra low speed option for cold weather applications
Reversing cooling fan for heavy debris applications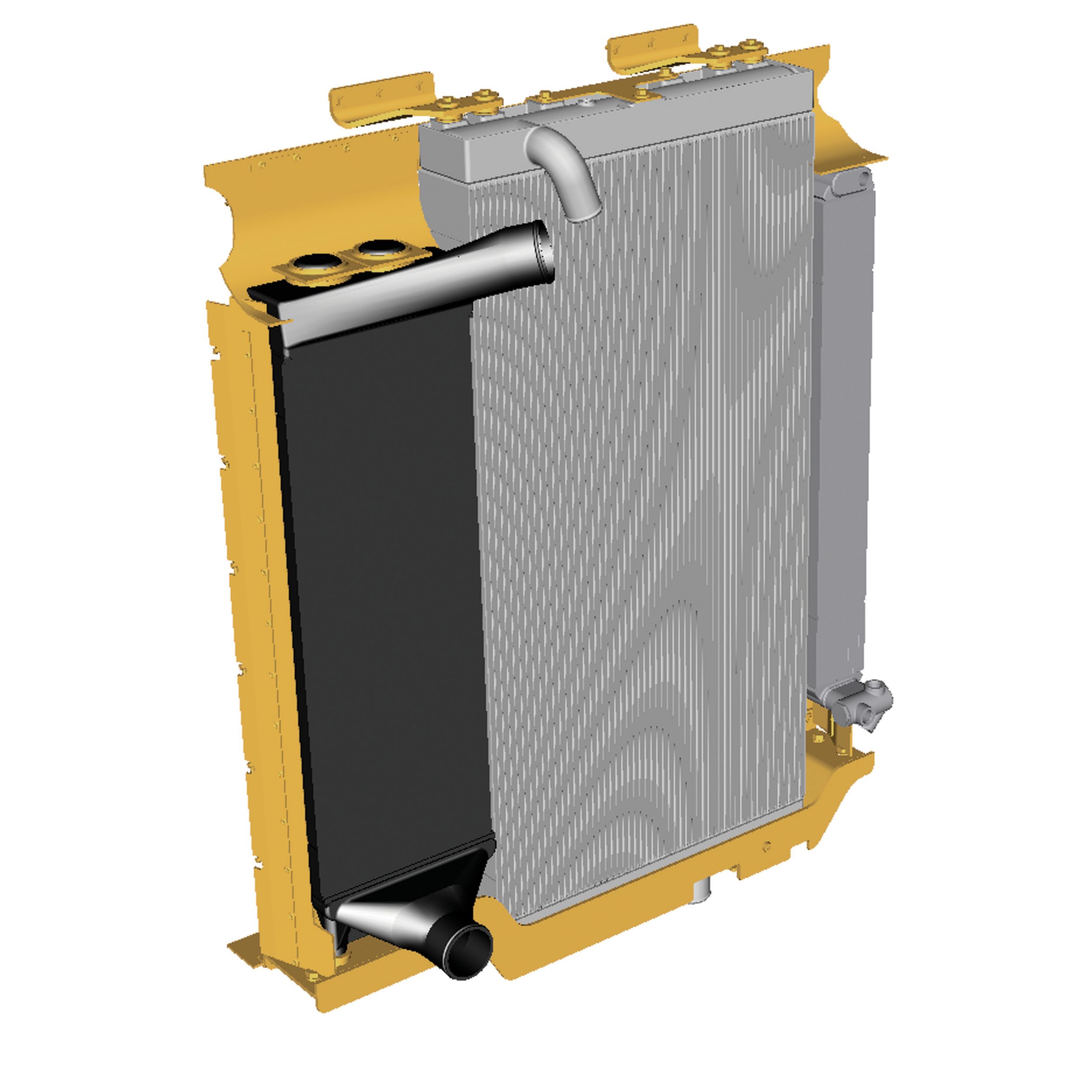 Comfort and convenience
BENEFITS AND FEATURES
The D9T cab is designed and equipped for operator productivity, safety and comfort. The standard isolation-mounted cab reduces noise and vibration. Overall operator sound levels have been reduced by 2 dB(A). Large windows, tapered hood, and notched fuel tank provide excellent visibility to all sides of the machine and around the job site. The D9T comes with an updated in-dash display with new features. An improved Advisor Monitoring System tracks machine operating conditions in real time. Dimmable lights allow the operator to choose between night and day backlight settings, through Advisor, to adjust the brightness of all switches and the keypad in the cab. Operators will enjoy comfort features like standard Cat Comfort Series Seat, adjustable arm rests and automatic climate control. The climate control system automatically adjusts heater and air conditioning controls to maintain a consistent cab temperature throughout the day. Both heater and air conditioner deliver filtered, pressurized, temperature controlled air to the operator and/or windows. The system performs 5 functions: heating, cooling, defrosting, pressurizing and defogging. Additional cab features include:
Entertainment radio ready and IPOD/MP3 player ready
Communications radio mounting
Finishes that make the cab easy to clean
Heated and ventilated seat option
Deep storage space
Two cup holders
Window wipers (intermittent, low and high speeds)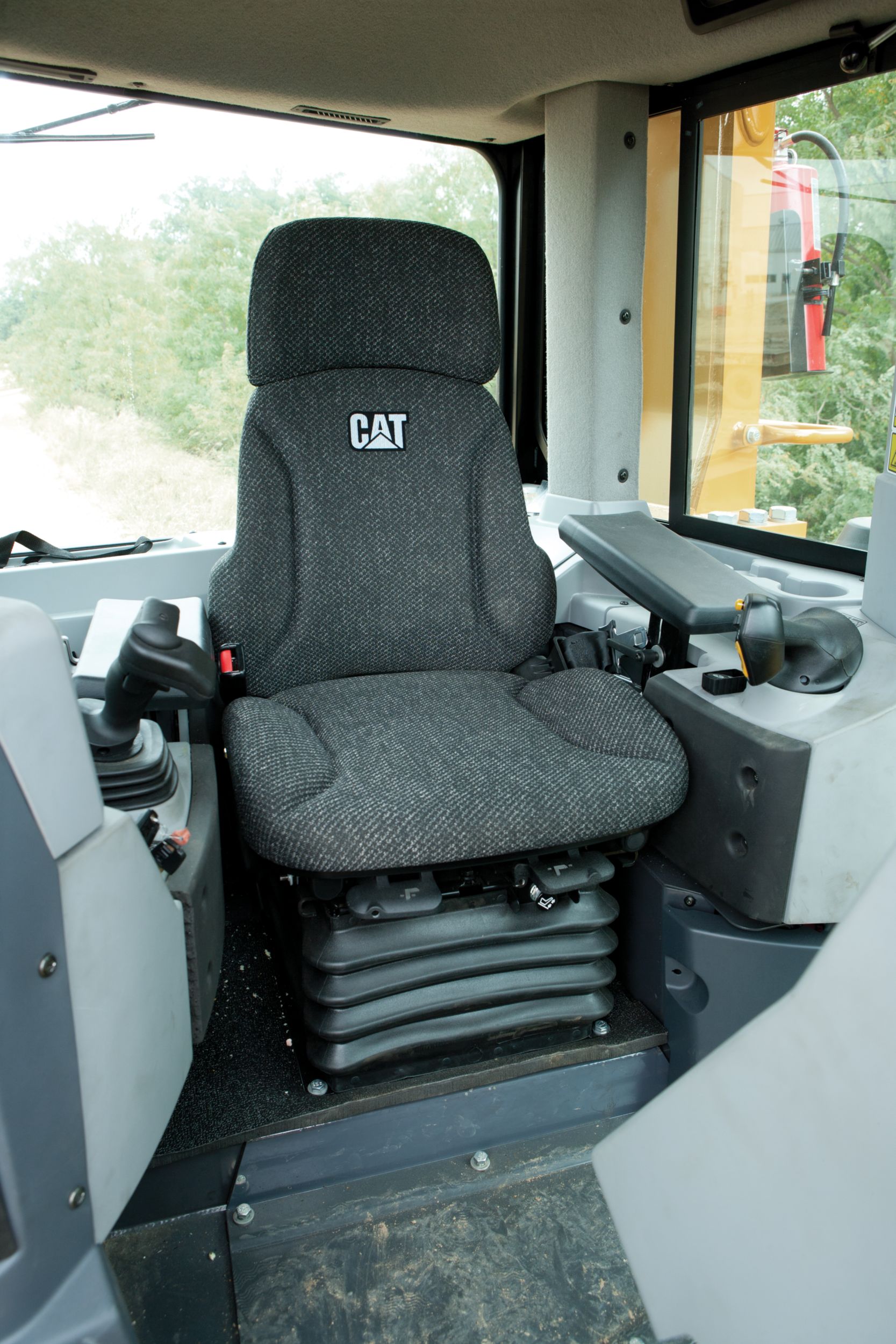 Ergonomically designed for ease of operation
BENEFITS AND FEATURES
Dozer Control Lever A low-effort electronic dozer control handle gives the operator control of all dozer functions with one hand. Fore/aft movement of the control handle lowers and raises the blade. Left/right movement directionally tilts the blade. Blade response and blade float can be set/adjusted using the Advisor System. The thumb lever at the top of the handle and trigger switch controls blade pitch fore and aft when equipped with dual tilt. Dual tilt also provides automated blade assist control capability.
Electronic Ripper Control A rigidly mounted handgrip provides firm support for the operator even when ripping in the roughest terrain. The low effort thumb lever controls raising and lowering. The finger lever controls shank-in and shank-out positioning.
Performance Monitor The monitoring system collects machine data and provides real-time feedback on machine productivity to optimize performance. Data summaries can be sent to off-board tools for site managers to review.
Terrain for Grading (optional) Provides high precision management of dozing and grading applications for enhanced safety, productivity and efficiency. The system enables an electronic site plan to be sent to the machine from the office in real-time, directing the operator where to cut and fill.
Automatic Ripper Control (optional) A new feature that reduces operator fatigue and decreases wear and tear on the machine. This is done by monitoring the tractor ground speed with the new cab mounted Global Navigation Satellite System (GNSS) to automatically adjust engine speed and ripper depth to minimize track slip.
Autocarry (optional) Enhances operators productivity by coninuously monitoring ground speed and automatically adjusts blade load.
Cat Grade Control (optional) Integrates traditional machine control and guidance with machine hardware and software to help improve productivity, usability, reliability and value. Cat Grade Control software is enhanced to not only automatically guide the blade to the desired design contours, but also integrated with Autocarry to sense and automatically control the load of the blade for improved performance and efficient blade loading in high production dozing applications.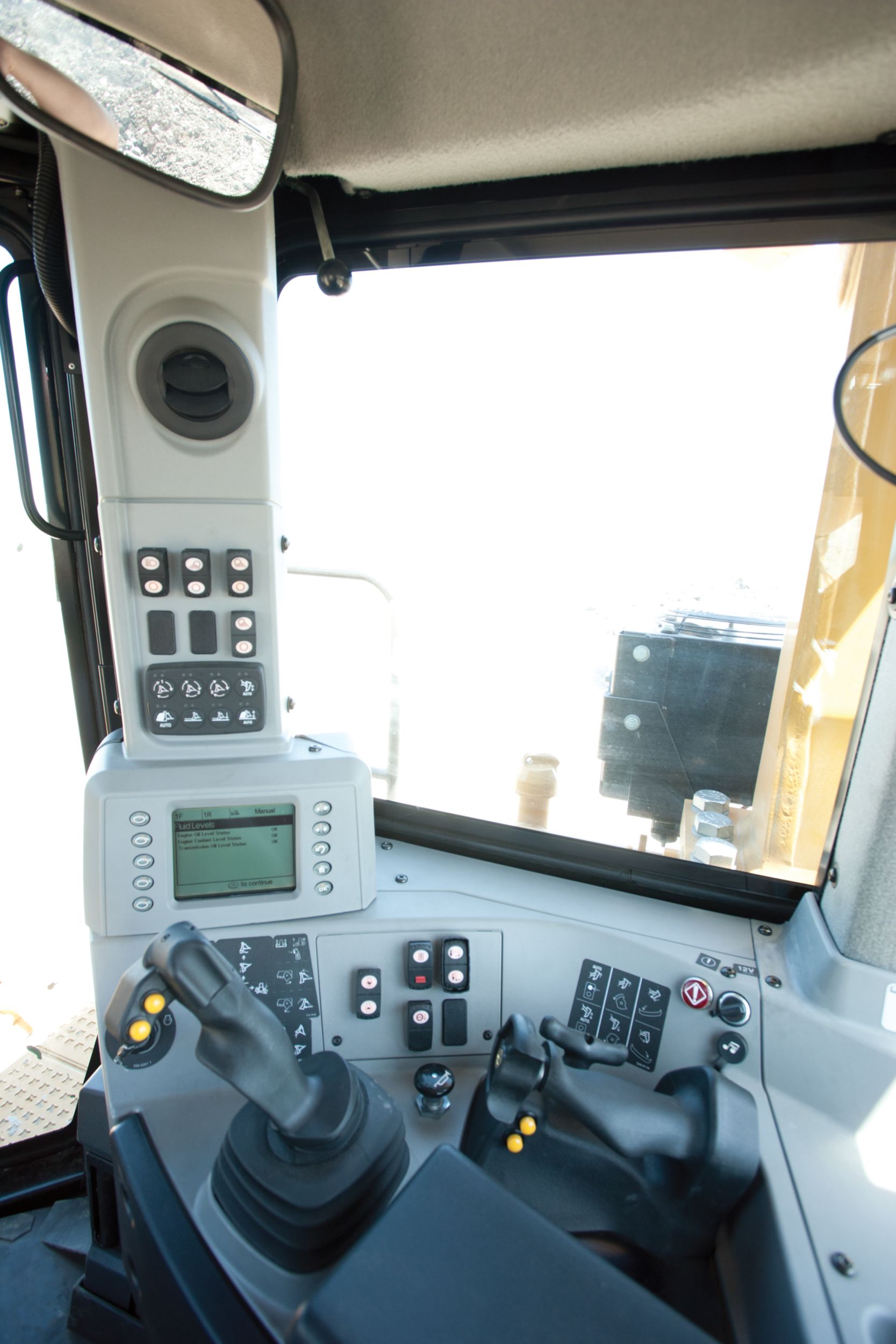 Engineered for performance
BENEFITS AND FEATURES
Suspended Undercarriage Design Absorbs impact loads, to reduce the shock loads transferred to the undercarriage, by up to 50%.
Bogie Suspension Bogie suspension conforms closely to the ground providing up to 15 percent more ground contact, especially in uneven terrain. Higher traction means less slippage, better balance, and a smoother ride.
Integrated Carrier Roller Mount The carrier roller mount is cast into the track roller frame making it easier to add the optional carrier roller in the field, if conditions require it.
Rollers and Idlers Feature symmetric Duo-Cone™ seals for long sealing life to prevent oil loss and dirt entry. Toric rings maintain performance over a wide range of temperatures.
Roller Frames Roller frames are tubular to resist bending and twisting, with added reinforcement.
Positive Pin Retention (PPR) Sealed and Lubricated Track Designed for high-impact and high load applications, the Caterpillar design locks the link to the pin.
Sprocket Segments Made exclusively of Cat Tough Steel™ for longer wear life and precision machined for fit.
Track Shoes Track shoes are available in a variety of sizes and styles to match working conditions.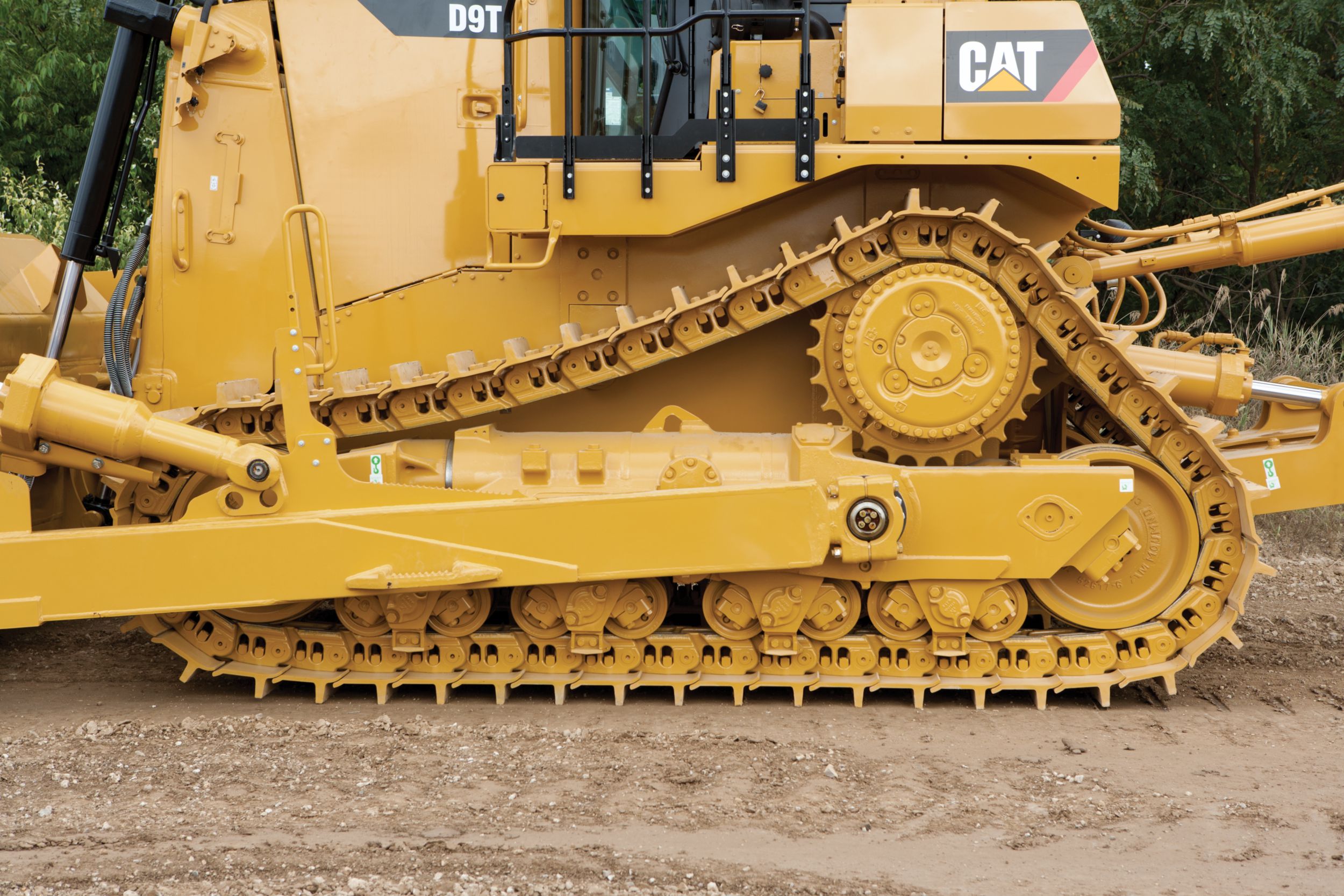 Provides maximum efficiency in combination with the C18 engine
BENEFITS AND FEATURES
Torque Converter A high efficiency torque converter with fixed stator provides high torque multiplication while shielding the drive train from sudden torque shocks and vibration.
Planetary Power Shift Transmission Three speeds forward and three speeds reverse, utilizing large diameter, high capacity, oil-cooled clutches.
Modulation system permits fast speed and direction changes.
Modular transmission and differential slide into rear case for servicing ease, even with ripper installed.
Oil-to-water cooler for maximum cooling capacity.
Forced oil flow lubricates and cools clutch packs to provide maximum clutch life.
Differential Steering System A planetary differential turns the machine by speeding up one track and slowing the other, while maintaining full power to both. The system consists of:
Two planetary gear sets (steering and drive) make up the "dual differential," which performs the traditional drive function (forward or reverse).
A third planetary gear set, the "equalizing planetary," resides inside the transmission case. It is connected to the dual differential, which provides a maximum speed difference between the right and left final drives during a turn.
A dedicated variable-displacement steering pump.
A bi-directional, fixed-displacement steering motor.
Drawbar Pull vs. Speed As loads on the tractor increase, the D9T offers unmatched lugging capability and smooth shifting as the need occurs to change gears under varying loads. Drive train offers excellent runout speeds and accurate steering capability under load.
Enhanced Auto Shift Enhanced Auto Shift is a new standard feature that improves fuel efficiency by automatically selecting the optimal forward and reverse gear and engine speed combination based upon powertrain load and desired ground speed.
Modular Powertrain The modular powertrain design permits quick removal and installation of major components such as the engine, transmission and final drives.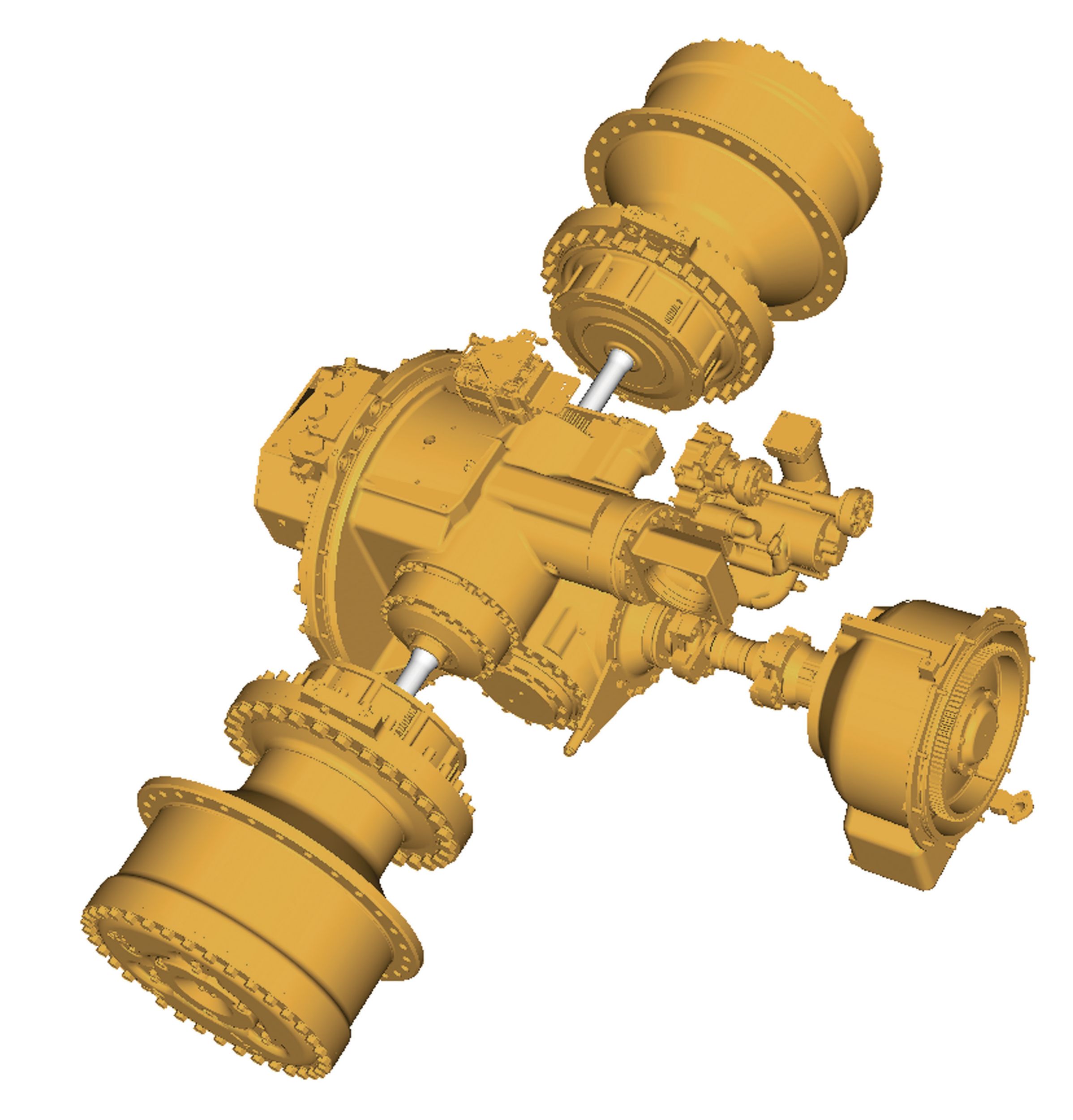 Engineered for maximum production and service life
BENEFITS AND FEATURES
Mainframe Strength The D9T mainframe is built to absorb high impact shock loads and twisting forces.
Frame Rails Full box section, designed to keep components rigidly aligned.
Heavy Steel Castings Adds strength to the main case, equalizer bar saddle, front cross member and tag-link trunnion.
Top and Bottom Rails Continuous rolled sections, with no machining or welding, to provide superior mainframe durability.
Pivot Shaft The D9T pivot shaft runs through the mainframe and connects to the roller frames, allowing independent oscillation. The full-length pivot shaft distributes impact loads throughout the case, reducing the bending stress on the case.
Tag-Link The Tag-Link brings the blade closer to the machine for more precise dozing and load control. The Tag-Link design provides solid lateral stability and better cylinder positions for constant break out force, independent of blade height.
Main Case Elevates the final drives well above the ground level work area to protect them from impact loads, abrasion and contamination.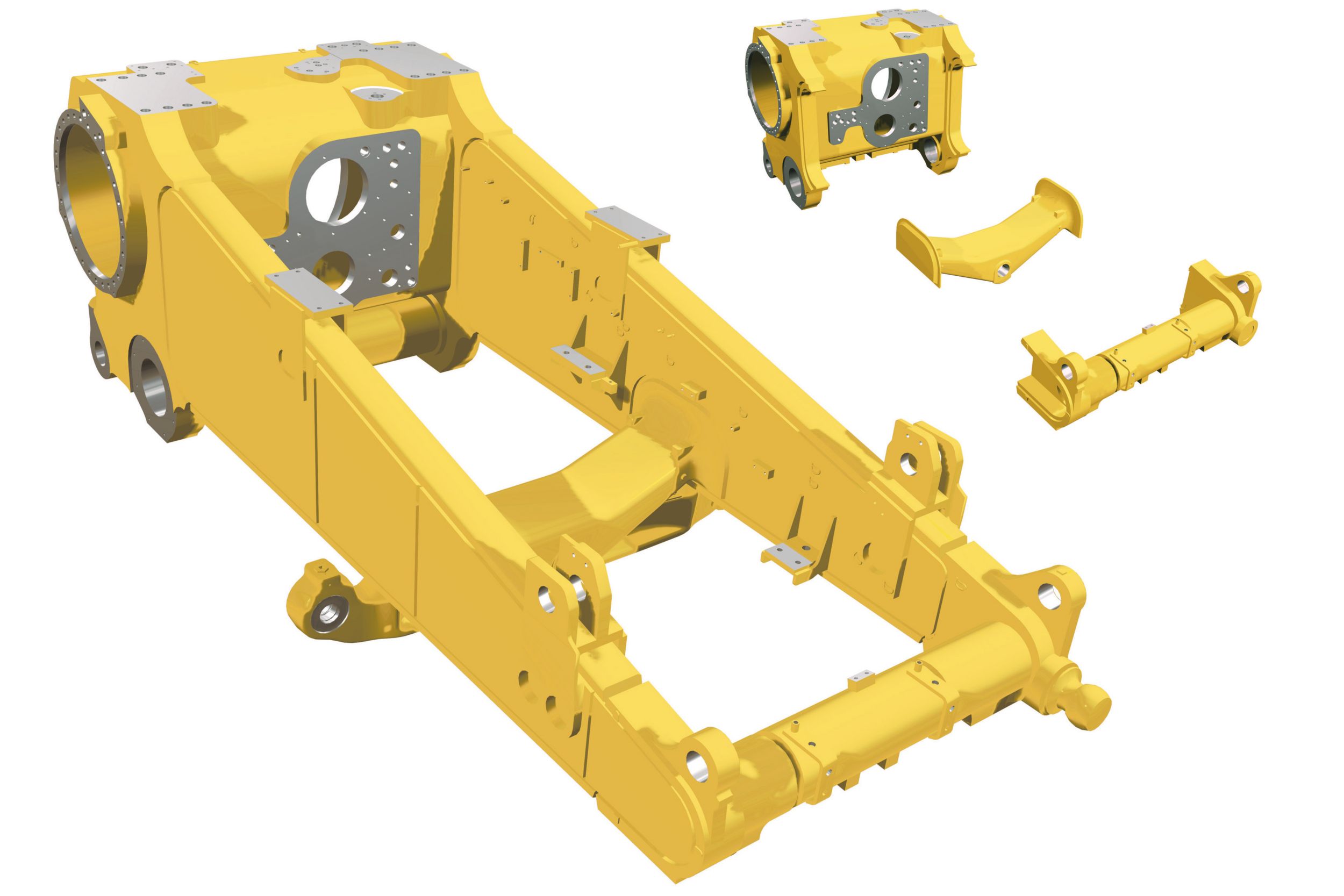 Equipped for versatility
BENEFITS AND FEATURES
Bulldozers All blades feature a strong box-section design that resists twisting and cracking. Blades are made of high tensile strength steel that stands up to the most severe applications. Heavy moldboard construction and hardened bolt-on cutting edges and end bits add strength and durability.
Semi-Universal Blade - Built for tough applications where penetration is important.
High-Capacity Universal Blade - Maximizes capacity for moving big loads over long distances.
Optional Dual Tilt - Allows the operator to optimize the blade pitch angle.
Cutting Edges and End Bits - Cutting edges are made of DH-2 steel. End bits are made of DH-3™ steel for maximum service life.
Cat Work Tools offer a range of special application blades.
Rippers
Multi-Shank Ripper - Tailors the tractor to the material by using one, two or three shanks.
Single-Shank Ripper - Operator can adjust the shank depth from the seat using an optional single‑shank pin puller. Large one-piece shank is available in deep ripping configuration.
Rear Counterweights Provide proper tractor balance to maximize dozing production. Recommended if tractor is not equipped with any other rear attachment.
Winches Several options are available. Contact your Cat dealer.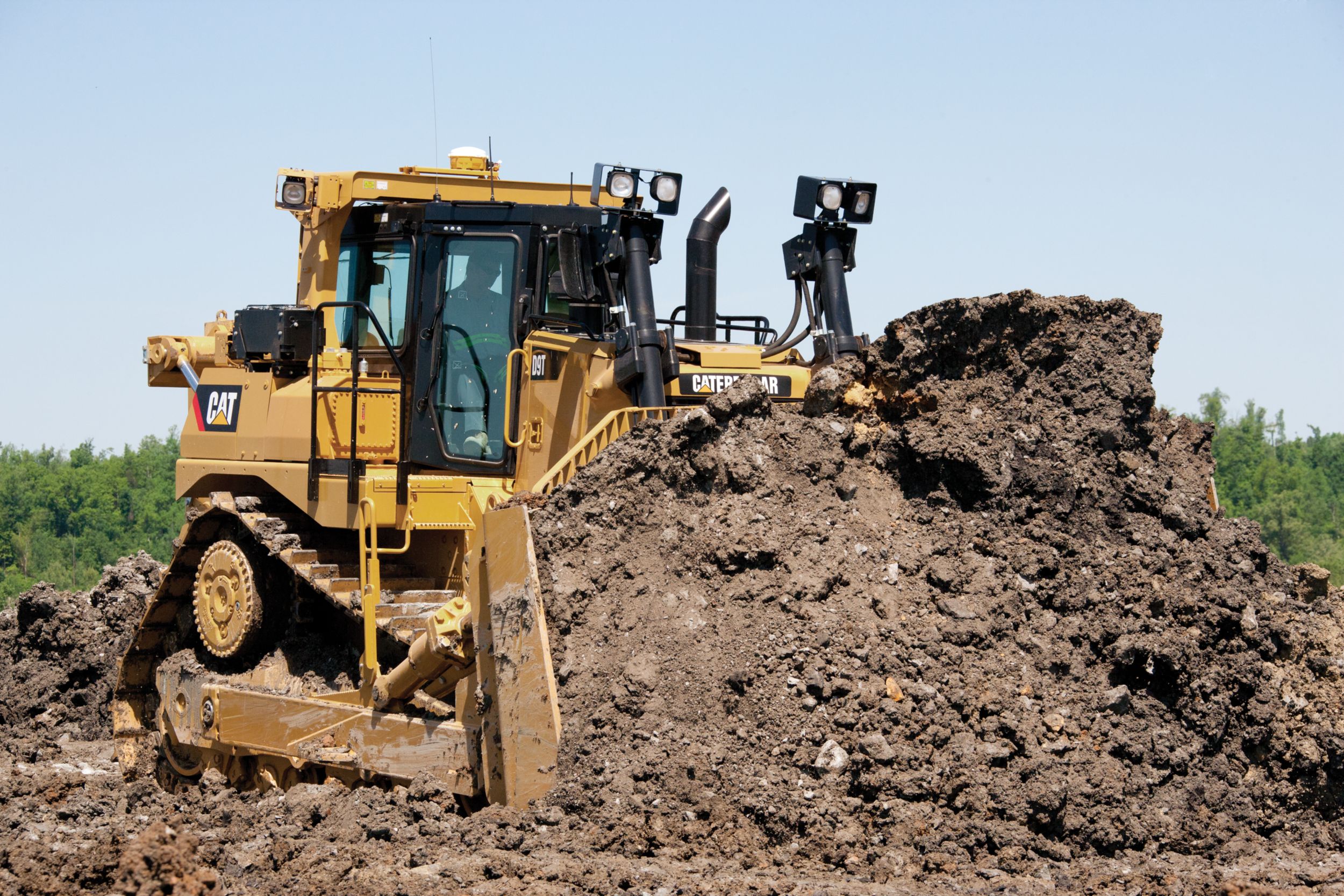 Thinking generations ahead
BENEFITS AND FEATURES
The new D9T offers a number of sustainable benefits:
Fuel saving features like Enhanced Auto Shift help decrease overall fuel consumption. Decreases in fuel consumption result in a decrease in combustion of carbon, thus reducing greenhouse gases.
Ecology drains allow fluids to be easily captured for recycling or proper disposal.
The D9T is Grade Control Ready for easy installation of machine control and guidance systems like AccuGrade and Cat Grade Control. These systems improve operator productivity, as well as save fuel and wear and tear on the machine. The need for grade checking crews on the ground is eliminated which increases site safety.
Ground level service centers enhance safety for operators and service personnel.
Major components of Cat Track-Type Tractors are built to be rebuilt. The Cat Certified Rebuild program conserves energy and materials by delivering a cost effective second, and even third, life for Cat machines.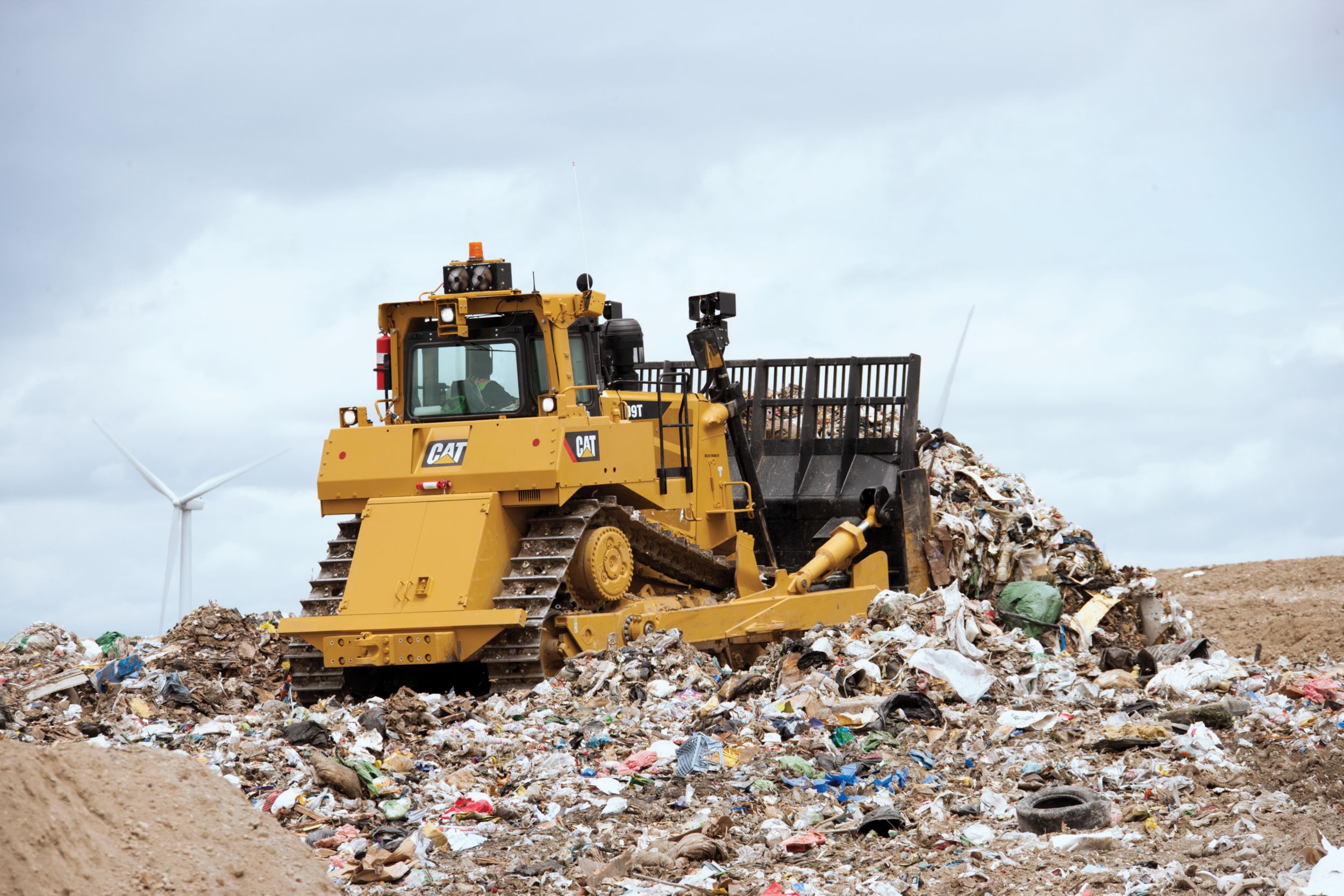 Important for the most productive business
BENEFITS AND FEATURES
Operator Presence Detection This new feature locks out the powertrain and hydraulics to avoid unintentional movement when the operator is mounting and dismounting the machine.
Fender Guard Rails Standard heavy duty guard rails are strategically placed to aid the operator outside of the cab.
Heavy Duty Steps and Handles Strategically placed grab handles plus non-slip steps and decking aid operator getting on and off the machine. Primary access/egress path meets specifications outlined in ISO 2867:2006.
Visibility Package (optional) The D9T offers a visibility package that enhances the operator's visibility of their surroundings and provides a broader view of the work area. The packages include a WAVS camera system and mirrors inside and outside the cab.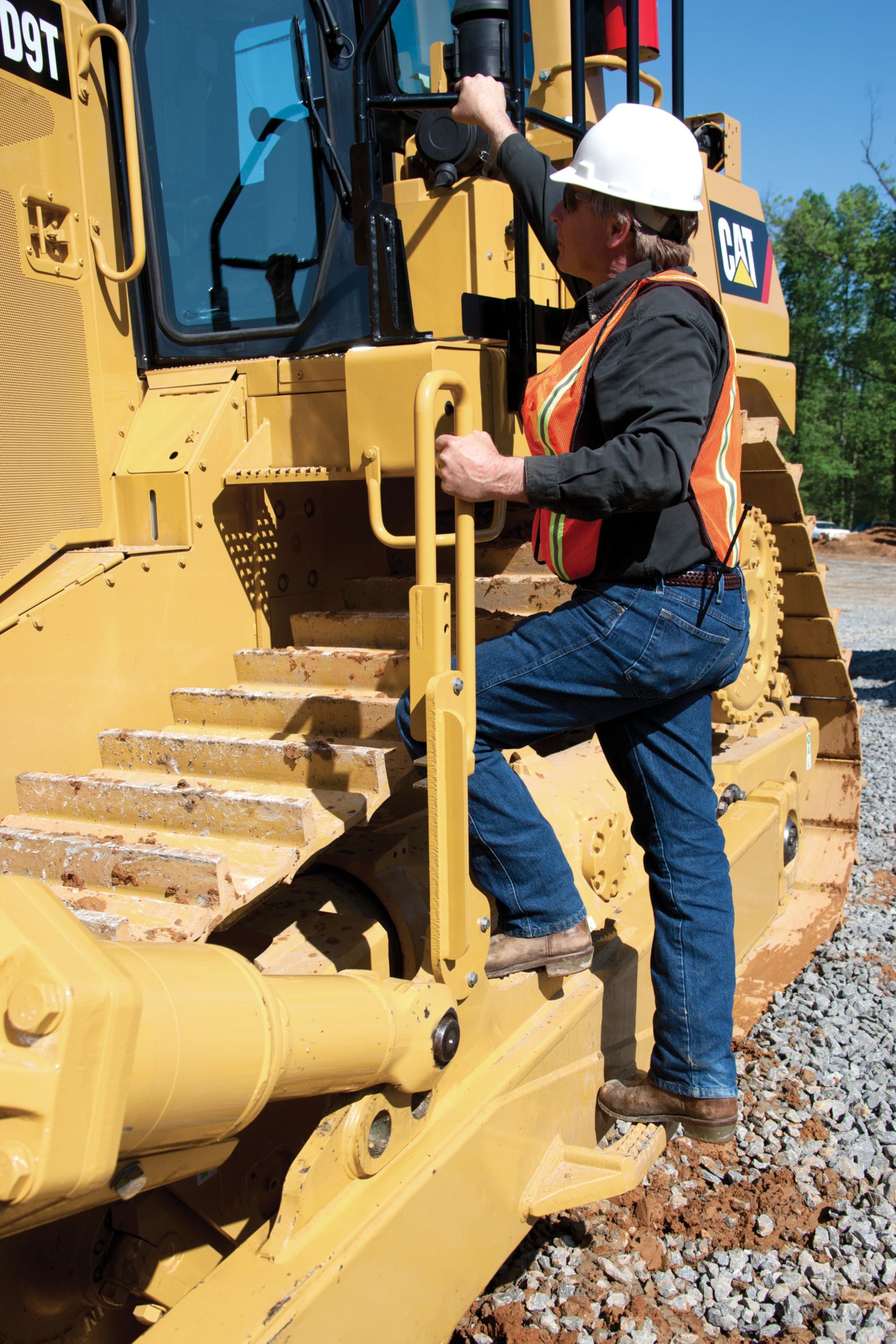 The Cat dealer network keeps your fleet up and running
BENEFITS AND FEATURES
S•O•SSM Analysis Scheduled Oil Sampling made easier through live sampling ports for the engine oil, hydraulics and coolant.
VIMS 3G Enables your equipment to provide detailed, up-to-the-minute data about its own health and working conditions by monitoring key temperatures, pressures, and more. The system gathers historical trends, histograms, events and more for off-board analysis. Additional subscription required.
Ground Level Service The ground level service center mounted on the left fender provides easy access to:
Secondary engine shutoff
Access lighting switch turns on the forward ROPS lights to light the access path to the machine. The lights will stay on until you start the tractor or when a configurable timer expires (10 minute default).
Delayed lighting turns on the forward ROPS lights to light the path when getting off the machine.
Electrical disconnect switch with built in lockout capability
Hour meter
Ok-to-Start The new Ok-to-Start strategy provides electronic fluid level verification at startup on the powertrain, engine coolant and engine oil systems. All information is available via the Advisor Monitoring System within the cab.
Parts Program You will find nearly all parts at your dealer parts counter. Cat dealers use a world-wide computer network to find in‑stock parts to minimize machine downtime. Ask about your Cat dealer's exchange program for major components. This can shorten repair time and lower costs.
Remanufactured Components Genuine Cat Remanufactured parts save you money. You receive the same warranty and reliability as new products at cost savings of 40 to 70 percent. Components are available for the drive train, engine, and hydraulics.